This is a super easy meal, and my husband and daughter just adore it. You can mix it up by adding brocc0lli, carrots, green or orange peppers, peas, corn or anything really to make it perfect for your family.
This recipe is also good as a vegetarian dish without the chicken and bacon. I like to serve it with Caesar salad and some crusty bread.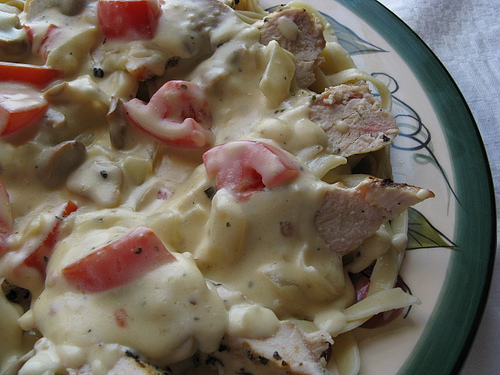 2 lbs boneless skinless chicken breast diced into 1" pieces
6 strips of extra thick bacon
1 red pepper diced
salt & pepper
2 tablespoons olive oil
16 oz. heavy cream
2 large garlic cloves, minced
8 tablespoons unsalted butter
1 3/4 cups Parmesan cheese, grated
1/2 to 1 teaspoon ground black pepper
1 lb. fettuccini

Directions
1. In a large skillet fry up the bacon until its almost crispy, remove from the skillet and drain on paper towel, place chicken in bacon drippings and cook until slightly browned. Add pepper, saute for about 4 minutes until just tender. Set aside.
2. Cook the pasta

3. Heat the olive oil in a large nonstick skillet over medium-high heat.
4. Carefully wipe out the skillet with paper towels. Place over medium-low heat. Add the cream, garlic, butter, and black pepper to the skillet. Stir occasionally until bubbly. Stir in the Parmesan cheese until well combined. Add the chicken, peppers, and bacon, cook until heated through. Turn the heat down if the mixture sticks to the pan. Season with salt & pepper, to taste.
5. Drain the cooked pasta.
6. Toss pasta in sauce and serve.