Now that the countdown to closing on our new build has begun, I can get down to the really fun stuff. Decorating! I cant wait to start shopping and painting and wallpapering and trimming and, well everything.
One of the rooms I'm really excited about is my girls bathroom. At our old house, we just had the one main bathroom upstairs, so i wasn't allowed to "girlify" it too much. How we have our own ensuite bathroom and my husband has given me free reign to do what I want for the girls bathroom.
This is what it looks like right now,
As you can see, I've really had to use my imagination.
When me and the husband were in Barbados in 2009, we went swimming with turtles, and we got some great pictures. I've always wanted to have them up in the house, but until now I havn't really had a place for them. This one is my favourite, and its the main inspiration for this room,
Its going to be an ocean theme! Im so excited, Ive been pinning away for weeks! I know I want this shower curtain , by
Anthropologie.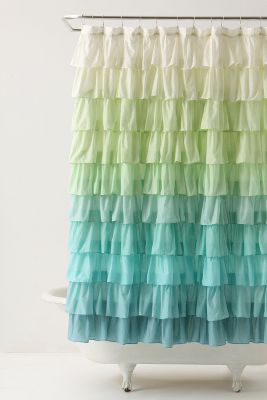 I cant see myself spending $118 on a shower curtain though, so I may attempt to make my own. I found a simple enough ( and free) tutorial
here.
I know Im going to want to include some beach glass, I was thinking in the mirror like this,

Did you know that you can get beach glass counters! I think this would be a super cute alternative to the granite/quartz we were considering.

but Im also in love with these driftwood mirrors, and they would be so simple to DIY,
I also want to hang some starfish from the walls and try to incorporate a mermaid or two for some whimsy, but i havn't found anything yet. I think the hardest part of this bathroom is going to be keeping it from being "too much", I want to keep it pretty simple. I cant wait for it all to come together.