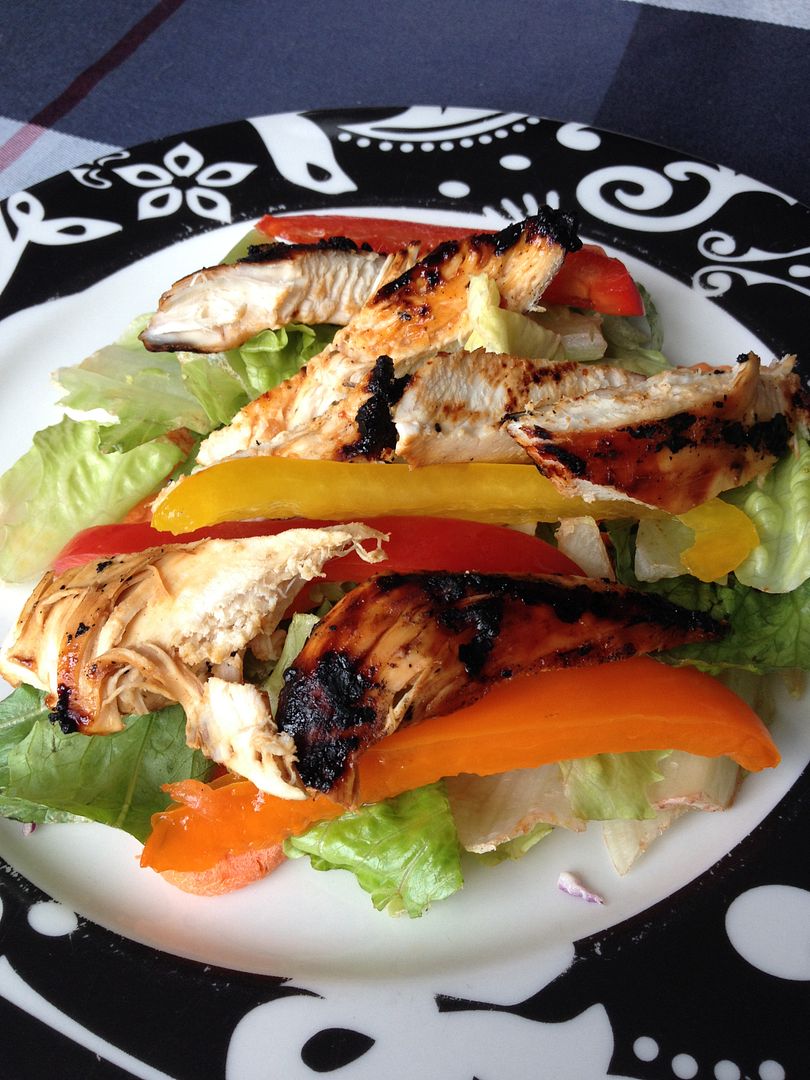 Now that summer is here, I find I'm relying less on my oven, and more on my BBQ to cook our meals.
Who wants to be trapped in the kitchen when we can all be outside, playing in the sunshine while dinner cooks? You really cant beat the taste of BBQ either, its just so fresh, and summery.
I love pairing BBQ meats with big fresh salads to make sure that we still eat a rainbow every day. The kids always love choosing from our salad "buffet" and have created some really interesting combinations, strawberries, almonds, peppers, broccoli; they're willing to try almost anything as long as its
their
choice. Once the salads are mixed up, we toss the BBQ meat on top and viola, a healthy, simple , and fun meal.
Blue Dragon
has been a great addition to our summer meal planning. Their line of sauces have so many great flavors to choose from, coconut-lime, Szechuan pepper, and wasabi plum to name a few. Its so easy to just toss some shrimp or chicken in the sauce and then throw it onto the BBQ to cook.
Last week I had one of my new favorites, Szechuan chicken salad with rainbow peppers. It was so flavorful and even had a little kick, which I really enjoyed, but not nearly enough as much as Zack did!
The best part though was how simple it was to put together, I just coated the chicken breasts in
Blue Dragon
s
Schezuan Pepper stir fry sauce
and let it sit for thirty minutes, then I tossed it on the BBQ.
While that was cooking I chopped up some romaine lettuce, red yellow and orange peppers, cucumbers and some red onion and tossed it all together. Once the chicken was cooked, I cut it into strips and served it on top of the salad. It was a perfect summer meal, simple and delicious.
For more inspiration on the "East made Easy" check out Blue Dragon Canada on
Instagram
,
Twitter
, and
Pinterest.
And make sure to check out the
Blue Dragon Canada Facebook Page
for your chance to win a delicious East made Easy prize pack.
"Disclosure: I am part of the Blue Dragon Ambassador program with Mom Central Canada and I receive special perks as part of my affiliation with this group. The opinions on this blog are my own."